March 24th, 2009
On July 5,2008 Fort Wayne Dancesport, a social dance section of USA Dance, Inc., is hosting the First Special Olympics Ballroom Dance Competition in United States, Allen County War Memorial
Event: Special Olympics Ballroom Dance Competition
Place: United States, Indiana , Allen County War Memorial Coliseum Expo III, Fort Wayne.
The new Special Ballroom Dance Competition will be the first program on Dance Fort Wayne Dancesport Championships held on July 5th and 6th. The dance styles that will be performed by the Special Olympic Ballroom competitors are
a) American Waltz
b) American Cha Cha
c) American Rumba
d) American Swing
The complete event of Special Olympics is open to all the general public for FREE of charge. Amateur competitions following the Special Ballroom Championship, is 5$ per head and 10$ for reserved seating.
Event Schedule to be followed:
Saturday
12:30 pm – 4:00 pm:
Amateur couple's ballroom dance competition
Rhythm Dances: Cha Cha, Rumba, Swing, Bolero
Latin Dances: Cha Cha, Rumba, Samba, Jive
8:30 pm – 11:30 pm
Semi-formal Social Dance
Sunday 10:30 am – 3:30 pm
American Smooth dances: Waltz, Foxtrot, Tango, and Viennese Waltz
International Standard dances: Waltz, Foxtrot, Tango, and Quickstep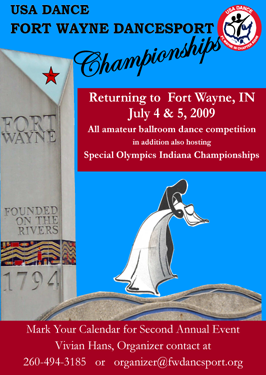 Tags: Fort Wayne Dancesport, Special Olympics Ballroom Dance Competion
Posted in Competitions | 2 Comments »