January 29th, 2010
Jacob's Pillow Dance Festival
Jacob's Pillow festival promises a mix of international dance companies, emerging choreographic talents, legends, live music, new work, and a variety of dance from around the globe. Highlights are the spectacular return of Nina Ananiashvili; the U.S. debut of Barak Marshall's MONGER, of Israel; the splendid production Serenade/The Proposition choreographed by Bill T. Jones; and the U.S. debut of 3xBoléro performed by The Göteborg Ballet. View the newly-launched artist pages for performance information, photos, and videos, and to reserve tickets today. A full schedule of free events will be announced in April.
About the Festival:
Jacob's Pillow is one of the world's most prestigious arts organizations, home to America's longest running dance festival, a Historic Landmark, and an incomparable experience for audiences and artists. Every year visitors, dancers, choreographers, composers, teachers, experts, and novices explore the art of dance with more than 50 dance companies performing on three Festival stages and more than 200 free performances, talks, tours, events, art and photography exhibits, and more.
There are activities to fill an entire day. Experience cutting-edge dance from around the world in the Ted Shawn Theatre, America's first theatre built specifically for dance, and the intimate Doris Duke Theatre. Pack or purchase a picnic and watch free performances by emerging artists and the dancers of The School at Jacob's Pillow on Inside/Out, an informal outdoor performance space. Listen to artists and experts discuss dance and related topics in film, media, music, arts, literature, and history at twice-weekly, free PillowTalks.
Gain insight through Pre-Show Talks given before every ticketed performance and participate in weekly Post-Show Q&A sessions with artists just after they step offstage. Learn about the Pillow's 78-season history on a free Guided Tour of this National Historic Landmark. Browse the rare treasures of the Archives and explore the touch-screen interactive dance history kiosk. Watch renowned faculty coach emerging professional dancers of The School at Jacob's Pillow or take a dance class yourself. Keep in touch with Jacob's Pillow throughout the year on Facebook, Twitter, and view photos from the Pillow on Flickr.
Posted in Uncategorized | No Comments »
January 28th, 2010
CanAsian Dance Festival 2010 is to be held on May 7 – 9 and May 14 – 16, 2010 in collaboration with the Institute for Contemporary Culture at the ROM.
Featuring :
• Natasha Bakht (Ottawa) with composer Alexander MacSween (Montreal)
• Moving Dragon (Vancouver) with composer Michael Vincent (Toronto)
• Soojung Kwon (Toronto) with the Opaque Ensemble (Toronto)
• F.A.M. (Toronto)
Venue: Royal Ontario Museum
Posted in Uncategorized | No Comments »
January 11th, 2010
The viewers were gathered by the rhythm of Odissi in Jayadev Bhawan, Bhubaneswar on the 3rd day of 5-day long 15th National Youth Festival 2010. The dance, style, instrument and music presented by youth dancers from different States charmed the audience with traditional flavor and attractive poses of Odissi dance.
15th National Youth Festival was organized by the Govt. of Orissa in collaboration with the Govt. of India in Youth Affairs and Sports Department; it has been conducted successfully in Orissa with careful planning and neat execution of programmes.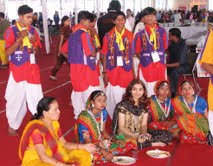 The Karnataka male dancer attracted the whole mass by bringing vibration towards his dancing styles. Andhra Pradesh, Chhatishgarh, Madhya Pradesh and Uttar Pradesh Dancers revealed a desire of endless happiness.
The morning session of this festival was occupied by Kuchhipudi dance in which dancers from West Bengal, Anuradha Roy and V.P. Supriya from Karnatak, P. Vaishnavi from Tamilnadu, S. Abhinava from Andhra Pradesh, Rasi Dave from Madhya Pradesh, Megha C.M. from Kerala, Sruti Jain from chhatishgarh, Aparna from Kerala and S. Sarat Kumar from Orissa were performed in a great manner.
Harmonium and Tabla music played by different Artists from different states brought an extraordinary rare melody in the minds of Youth representatives.
One Act Play at Rabindra Mandap, Folk Dance at Bhanja Kala Mandap, Rock Dance at Exhibition Ground, Unit-III and Babul Supriyo Music in the Kalinga Stadium were main features of the Festival.
In addition to these events, the Food Festival, Handicrafts Exhibition and Sand Art of Swami Vivekananda made by well-known sand artist Sudarshan Pattnaik at Unit-III Exhibition Ground were foremost attractions for viewers.
Posted in Uncategorized | No Comments »