December 30th, 2009
Sunburn Dance
More than hundred foreign visitors participated in sunburn dance for Asia's Premier Electronic Music festival, in candolim, Goa from 27th to 29th. Dmark and Nikhil Chinapa are the festival director of this third year celebration.
The festival has invited global clubbing brand and dance behemoth Gatecrasher for the label stage.
Shalindera Singh, director of the dance programme, said that "Sunburn is a festival which allows you to be who you are and fortunately through the platform of music which I think is a universal language of celebration. We are really fortunate that Goa has India's own festival of music and dance called Sunburn which is not only India's largest but also Asia's number one".
Tags: Dance festival, So_You_Think_You_Can_Dance, sunburn dance
Posted in celebration, Dance Festivel | No Comments »
November 14th, 2009
A small crowd of people got a sneak peek yesterday as part of the Tarerer Festival, which commences today in Killarney.
The Kenbi Dancers, who have traveled from the Top End for the occasion, gave a quick performance to a group of enthralled onlookers at Harris Street Reserve yesterday that involved them hunting a buffalo and even searching between audience members' legs looking for mud crabs.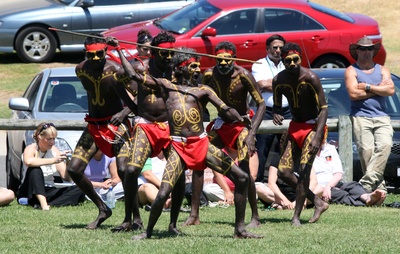 The in-demand dance group subsists in a small community of about 175 people at Belyuen, 18 kilometres across the harbour from Darwin.
According to their manager Steve Brown, the dancers love sharing their culture.
"Our big thing is involving the audience and bringing them into dance with us, so everyone is in together, as one," Mr Brown said.
The Kenbi Dancers are Larrakia people and Mr Brown said their culture was very much active.
"Their language is very strong," he said. "In their community they have about 10 different languages . . . even among these nine dancers, they might be all from the same family, but they still have two or three different languages."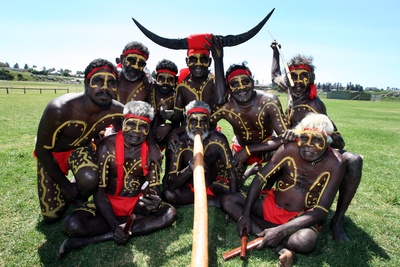 "It's good they can come down (here) to a place where the culture has been broken down over the years and bring their culture, which is really strong, and it may help them to build it up here again."
The Kenbi Dancers, and many other performers, will perform at the Tarerer Festival today and tomorrow at the Killarney Recreation Reserve.
Posted in celebration, Dance, Dance Styles | 1 Comment »
June 15th, 2009
This summer, Chautauqua Dance and North Carolina Dance Theatre, returning for its ninth year in residency at Chautauqua, revere three distinguished women who have helped shape dance from both on and off the stage. Celebrations will highlight the achievements of legendary New York City Ballet ballerinas turned master teachers Patricia McBride and Violette Verdy, and internationally acclaimed costume designer A. Christina Giannini. In 2009, each of the women marks two decades of involvement at the Chautauqua Institution.
The Costumer on a Bicycle
A. Christina Giannini is known affectionately by those who work with her as simply "Stia." Chautauqua Dance's resident costume designer since 1989, Giannini is a familiar figure around the grounds, riding on her bicycle to and from the Dance costume workshop. Giannini has costumed ballets for companies around the globe, including Alvin Ailey American Dance Theater, Jose Limon Dance Company, Royal Danish Ballet and Ballet National de Caracas. Her work has twice earned her Venezuela's equivalent to an Academy Award.
The Ballerina in Red Shoes
2009 is a banner year for Violette Verdy, who will receive France's highest distinction as Chevalier (Knight) of the National Order of the Legion of Honor this June. The honor is bestowed by French President Nicolas Sarkozy, and was originated by Napoleon Bonaparte.
Verdy's notable career began before her days as a celebrated New York City Ballet principal dancer under the legendary George Balanchine. The French-born Verdy performed with Roland Petit's Ballets de Paris, Ballet Rambert, London Festival Ballet, and American Ballet Theatre. Balanchine created copious roles for her, among them Sonatine, which she danced with Bonnefoux. After her performance career, Verdy became the first female artistic director of the Paris Opera Ballet, and led as co-director of Boston Ballet for four years. In 1983, Bonnefoux invited Verdy to join the faculty at Chautauqua Dance. She subsequently taught and choreographed for the program a total of 20 years.
The All-American Star on the lake
Although many stars may be known for temperamental displays of drama, Patricia McBride's stardom draws from her ebullience and light, effortless virtuosity. Even more, her bright and welcoming personality could transform into complex, even murderous, characters onstage. Dance critic Robert Gottlieb writes of McBride during her early days at New York City Ballet, "She was small, very pretty, energetic, and alluring, and as useful to [choreographer Jerome] Robbins as to Balanchine."
Posted in celebration | 3 Comments »