July 10th, 2009
There are too many things we should thank the Irish for – "St. Patrick's Day"…tasty soda bread, step dancing, and Celtic music. At the 38th Annual Rochester Feis, you can make sure who has the luck o' the Irish this Saturday, July 11. The "feis", which is been derived from the Irish word for "festival", will be featuring a traditional Irish dance competition, and several other contests for the best in art, needlework, singing, and soda bread baking
Posted in Competitions | No Comments »
June 30th, 2009
New Tang Dynasty Television (NTDTV), whose mission is to refresh traditional Chinese culture, hosted a competition at Tribeca Performing Arts Center.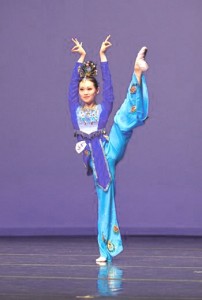 The competition is part of their sequence of nine competitions highlighting Chinese culinary art, photography, Chinese martial arts, figure painting, violin, vocal, piano and Han couture fashion design.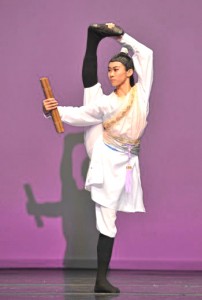 The contestants were compulsory to exhibit their knowledge and talent of traditional Chinese dance before a board of six judges, where all are graduated in the top dance schools in mainland China and Taiwan.
Posted in Competitions, Dance Competitions | 1 Comment »
March 24th, 2009
On July 5,2008 Fort Wayne Dancesport, a social dance section of USA Dance, Inc., is hosting the First Special Olympics Ballroom Dance Competition in United States, Allen County War Memorial
Event: Special Olympics Ballroom Dance Competition
Place: United States, Indiana , Allen County War Memorial Coliseum Expo III, Fort Wayne.
The new Special Ballroom Dance Competition will be the first program on Dance Fort Wayne Dancesport Championships held on July 5th and 6th. The dance styles that will be performed by the Special Olympic Ballroom competitors are
a) American Waltz
b) American Cha Cha
c) American Rumba
d) American Swing
The complete event of Special Olympics is open to all the general public for FREE of charge. Amateur competitions following the Special Ballroom Championship, is 5$ per head and 10$ for reserved seating.
Event Schedule to be followed:
Saturday
12:30 pm – 4:00 pm:
Amateur couple's ballroom dance competition
Rhythm Dances: Cha Cha, Rumba, Swing, Bolero
Latin Dances: Cha Cha, Rumba, Samba, Jive
8:30 pm – 11:30 pm
Semi-formal Social Dance
Sunday 10:30 am – 3:30 pm
American Smooth dances: Waltz, Foxtrot, Tango, and Viennese Waltz
International Standard dances: Waltz, Foxtrot, Tango, and Quickstep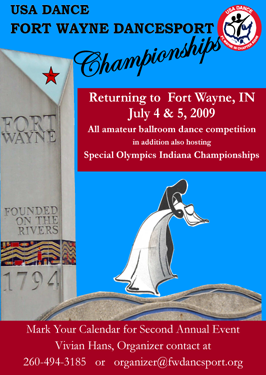 Tags: Fort Wayne Dancesport, Special Olympics Ballroom Dance Competion
Posted in Competitions | 2 Comments »