November 14th, 2009
A small crowd of people got a sneak peek yesterday as part of the Tarerer Festival, which commences today in Killarney.
The Kenbi Dancers, who have traveled from the Top End for the occasion, gave a quick performance to a group of enthralled onlookers at Harris Street Reserve yesterday that involved them hunting a buffalo and even searching between audience members' legs looking for mud crabs.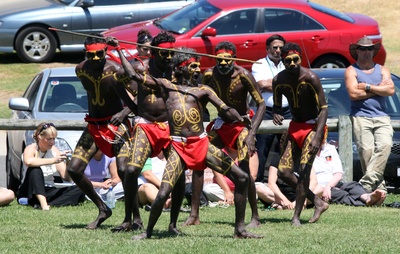 The in-demand dance group subsists in a small community of about 175 people at Belyuen, 18 kilometres across the harbour from Darwin.
According to their manager Steve Brown, the dancers love sharing their culture.
"Our big thing is involving the audience and bringing them into dance with us, so everyone is in together, as one," Mr Brown said.
The Kenbi Dancers are Larrakia people and Mr Brown said their culture was very much active.
"Their language is very strong," he said. "In their community they have about 10 different languages . . . even among these nine dancers, they might be all from the same family, but they still have two or three different languages."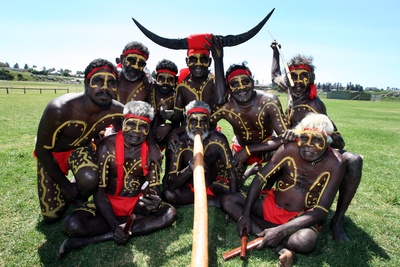 "It's good they can come down (here) to a place where the culture has been broken down over the years and bring their culture, which is really strong, and it may help them to build it up here again."
The Kenbi Dancers, and many other performers, will perform at the Tarerer Festival today and tomorrow at the Killarney Recreation Reserve.
Posted in celebration, Dance, Dance Styles | 1 Comment »
November 3rd, 2009
Doesn't this sound strange?
The members of the Diamond Dance Company aren't dancing for money or honor.
They don't charge for performances, except for a little now and then to help manage their expenses. The rewards come in the forms of applause and tears when they have touched the hearts of the audiences.
These Mormon women are dancing for their God and for themselves, because they have a talent that demands to be shared.
The present 15 members of the dance company come from all over northern Utah County and Heber. They vary in age from 30 to 40 and have more than 50 children between them. They include soccer moms, church leaders, busy wives and community members who have two things in common: firm testimonies of the gospel of Jesus Christ and a love of dance.
It's like oxygen for them.
"To me, it edifies and grounds the rest of my life," Marlo Andersen said. "It lets me focus on my Savior as a mother in Zion and a woman in the church."
Most of the dancers are graduates of BYU's dance program. After marriage and childbearing, many found themselves starving for the emotional, physical and spiritual fulfillment dancing brings to their lives.
That's where Diamond Dance comes in.
Posted in Dance, Dance Styles | No Comments »