December 23rd, 2009
Leaning her body off a steep ledge, a lady dived towards the ground and landed facedown over a blue foam carpet. Running at high speed, a guy evaded a swinging cement cinder block while jumping into the air. This type of dangerous dance is very rare, but STREB is not a normal dance company.
Daredevil is the name of this dangerous dance troupe and the founder of this gang is Elizabeth Streb. While studying dance in university, Elizabeth Streb felt that traditional dance styles didn't push her body and mind much.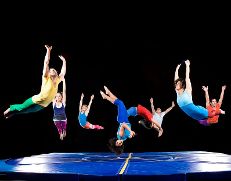 In 1975, Streb started a dance company, later she got a passion of learning a lot about the effect of movement on matter, and so she studied math, physics and philosophy at New York University. Using the utmost physical limits as her canvas, she started to increase her dance routine to farther extreme, using large-scale industrial prop and meticulous, more dangerous, steps. She says, in this way she has a great attraction for the achievements of Olympic athletes.
Their future performance in Vancouver will be the troupe's first performance on Canada's west coast. According to Streb, local viewers will never have seen a dance like it before, "This will be a great bold new form of entertainment"
Tags: Dance festival, Dance style, Dancing with stars
Posted in Dance Show, Dance Styles | No Comments »