December 12th, 2009
Salsa dancing: Paddy Jones, a 75 years old British grandmother is the winner of Spanish 'got talent' show, which is equivalent of "Britain's Got Talent" show. She won with an amazing gymnastic salsa routines. She stunned audience and judges with her flips, leaps, shimmies, spin and slide, regardless of age.
Jones, who stays in Spain, was originally from Stourbridge in the West Midlands. Actually Jones is a grandmother of seven and she learned salsa dancing five years ago, after the death of her husband.
She came with Nico, 40 years junior dance instructor and performed with a dark and tight dress.The judges were shocked as she blew the crowd away. The pair won $15,000 for their victory.
Jones said to the London Times, "I feel I'm very lucky for what I do and I will continue as long as I can and I'm the living proof to prove that age is not a barrier".
Tags: Dance festival, Special Olympics Ballroom Dance Competion
Posted in Dance Competitions, Dance Show, Salsa Dance | No Comments »
March 24th, 2009
On July 5,2008 Fort Wayne Dancesport, a social dance section of USA Dance, Inc., is hosting the First Special Olympics Ballroom Dance Competition in United States, Allen County War Memorial
Event: Special Olympics Ballroom Dance Competition
Place: United States, Indiana , Allen County War Memorial Coliseum Expo III, Fort Wayne.
The new Special Ballroom Dance Competition will be the first program on Dance Fort Wayne Dancesport Championships held on July 5th and 6th. The dance styles that will be performed by the Special Olympic Ballroom competitors are
a) American Waltz
b) American Cha Cha
c) American Rumba
d) American Swing
The complete event of Special Olympics is open to all the general public for FREE of charge. Amateur competitions following the Special Ballroom Championship, is 5$ per head and 10$ for reserved seating.
Event Schedule to be followed:
Saturday
12:30 pm – 4:00 pm:
Amateur couple's ballroom dance competition
Rhythm Dances: Cha Cha, Rumba, Swing, Bolero
Latin Dances: Cha Cha, Rumba, Samba, Jive
8:30 pm – 11:30 pm
Semi-formal Social Dance
Sunday 10:30 am – 3:30 pm
American Smooth dances: Waltz, Foxtrot, Tango, and Viennese Waltz
International Standard dances: Waltz, Foxtrot, Tango, and Quickstep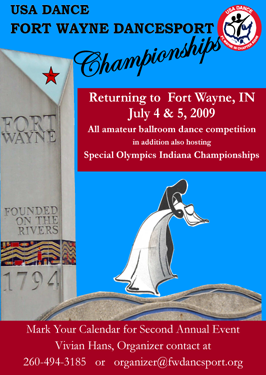 Tags: Fort Wayne Dancesport, Special Olympics Ballroom Dance Competion
Posted in Competitions | 2 Comments »