Styles Performed / Known:
Born On:
17th, April 1981
Place of Birth:
Dance style Gallery
Karatong originated in Philippines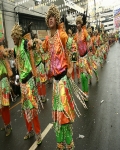 Description:

Alla was born in Armenia. When she was 8 years old her family moved to Russia. She started to learn belly dance in 2004. She has joined a lot of bellydance stars for workshops such as: Mahmoud Reda (Egypt), Raqia Hassan (Egypt), Nour (Egypt – Russia), Asmahan (Argentina – Egypt), Virginia Mendez (USA), Karima (Russia) , Randa Kamel (Egypt), Khaled Mahmoud (Egypt – UK), Lubna Emam (Egypt), Katya Eshta (Egypt), Yassmin (Russia), Olga Nour (Russia), Soraya (Egypt), Aziza (Egypt), Aida Hassan (Russia), Nino (Russia), Mironenko Liliya (Belarus), Aliya (Russia), Gabi Shiba (Lebanon).