First Wedding Dances
"First Dance, Forever Love: Begin Your Journey in Style!"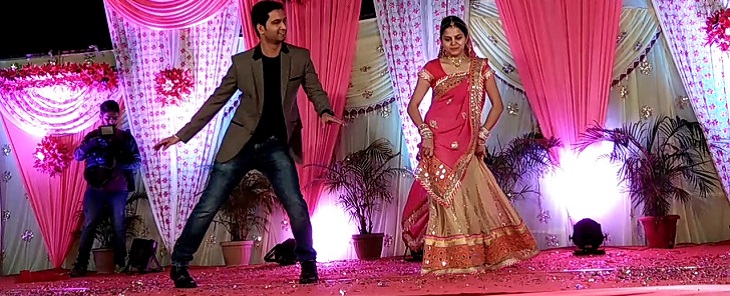 Wedding First Dance Choreography ? Live The Romantic Moments To The Fullest!
The bride and groom first dance is usually the major attraction of your big day and unarguably, the most enjoyable part of the wedding planning process. While learning these wedding first dance lessons, you get to spend some memorable time with your partner and you both get ready to handle the challenges of life as a team. You also get enough time to focus on your partner, practice dance moves and learn something useful together. Undeniably, it is pretty difficult to fit the first dance for wedding in your event's hectic schedule but practicing wedding first dances with a positive attitude can give you a major progress.
Dance And Dance Academy, Chennai offers bespoke private modern wedding first dance lessons. With our wedding first dance ideas and programs, we set you on the unbreakable dance partnership which you will share together for the lifetime. We excel in first dance choreography and all set to make your special day even more special.Click here
Our Powerful Approach To Choose That Perfect First Dance Song For You!!
Just like weddings are unique, so the emphasis must be on making wedding first dances unique and a perfect wedding song lays a strong foundation for it. If you don't have a preference, we will set it for you, the one which will make you and your partner feel the romantic moments. The wedding song gives you a way to share that beautiful moment together and rest leave on us. You may pick anything from the traditional wedding waltz to the foxtrot, 40's music, classic rock or even country music. The rest leave on our expertise to make these wedding songs a real attraction of the show as we are good at it. While we offer you some choices, you are free to pick anything that suits your taste and this is the benefit of associating with a leading dance academy in Chennai.
How Soon Should You Start With Your First Dance Lessons?
Well, the quicker the better! You might want to put it at the end of your list but wait, remember that this art is going to stay with you and your love for forever. Your wedding will be over in a day or two but the couple first dance lessons which you have taken will continue to cheer your romantic life even after the event is over. Therefore, we suggest you to take it more passionately and start 3-5 months before the wedding event. You will never forget the appreciation which you can get from your near and dear ones after a real performance on the special day. Are you up for it? then Click here.
Why Prefer Dance And Dance Academy, Chennai For Your First Dance Lesson?
Dance And Dance Academy, Chennai offers strategically designed first dance lessons which will surprise your guests on the wedding day. With extensive experience in the dance industry, we know how to choreograph your first dance that can actually leave your guests' eyes wide open with your Rockstar performance. We can create any theme to suit any wedding and style. We put our heart at work while choreographing wedding couples' first dance, so that people just have one word for your performance on the day ? "Outstanding". Let's make your guests talk about your wedding first dance for years to come, call us today!9840311014 or contact us Click here.