HIP-HOP DANCE
"Hip Hop: Groove, Move, Express Yourself!"
Fees For Hip-Hop Dance Classes
8 hours - Rs.1500 ( Each class 1 hour )
Enroll Now: calling us at 9840311014 or Email danceanddancestudio@gmail.com
Hip-Hop History
Hip Hop can draw its genesis back to the early 1970s and New York Street emcees- a genre exemplified by funk and soul rhythms superimposed with intense drumbeats.Hip-hop dance is a dynamic and expressive dance style. Rooted in urban communities and influenced by a variety of dance forms, music, and street culture, hip-hop dance is characterized by its diversity, creativity, and connection to the rhythms of hip-hop music. Ever since its origin, Hip Hop has become a platform of turn of phrase for the young all across the globe, amalgamating culture and modernity in a blend of movements. Having become a universal cultural phenomenon, it spreads good vibes and it has become a platform for artists to express their politics, their dance and their lives.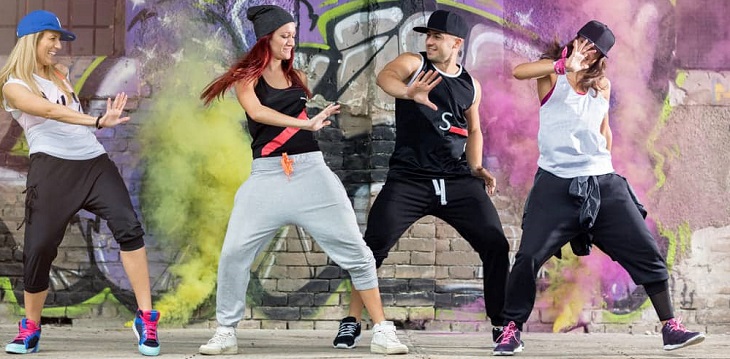 Hip-Hop Dance Signifies
Hip hop conventionally refers to four main art forms: MC-ing, or rapping, DJ-ing, dancing and graffiti. Street Dance or hip hop dance, as it survives today, stems from the original and varied movement styles which began to develop independently, but at the same time, on the east and west coasts of America. In New York, 'breaking' and 'up rocking' emerged. Meantime,'popping' and 'locking' came into being in Los Angeles.
Hip Hop has two kinds namely East coast Hip Hop and West coast Hip Hop and mixing it up i.e. as time passed all four dance styles of hip hop got spread and mixed.
The dance style primarily associated with hip hop is breaking, which appeared in New York City during the early 1970s and truly became a cornerstone of hip hop as a culture. Funk dance styles, such as popping and locking, evolved separately in California in the 1960-70s,but were also integrated into hip hop when the culture reached the West Coast of the United States.
Groove to the Beat: Hip-Hop Dance Classes and Workshops at Chennai Dance and Dance Academy!
Are you ready to break it down, move to the rhythm, and express yourself through the electrifying art of hip-hop dance? Chennai Dance and Dance Academy invites you to immerse yourself in the world of hip-hop, where creativity, style, and passion collide.
Experience the Energy of Hip-Hop
At Chennai Dance and Dance Academy, we don't just teach dance; we cultivate a culture of self-expression and movement. Our hip-hop dance classes and workshops are designed to give you an authentic experience of the vibrant hip-hop scene.
Highlights of Our Hip-Hop Dance Program
Chennai Dance and Dance Academy invites you to step into the world of hip-hop dance and unleash your inner dancer. Whether you're a beginner eager to learn the basics or an experienced dancer seeking to refine your skills, our program offers an inclusive and vibrant space for all. Join us today to experience the magic of hip-hop, connect with fellow dancers, and make every step count. Secure your spot now and let the rhythm move you!
Dynamic Hip-Hop Styles

Our comprehensive curriculum covers an array of hip-hop styles, from classic old school to contemporary and street dance. Dive into the signature moves, grooves, and techniques that define each style, enabling you to dance with confidence and flair.

Expert Hip-Hop Instructors

Our talented instructors are not only skilled dancers but also passionate educators. They bring their expertise and creativity to each class, ensuring you learn the foundations while exploring your unique dance style.

Cutting-Edge Dance Studio

Our state-of-the-art dance studio is designed to enhance your dance experience. Equipped with top-notch sound systems and spacious floors, our studio provides the perfect setting for you to unleash your hip-hop prowess.

Flexible Learning Options

Life can get busy, and we understand that. Choose from a range of class timings, including mornings, afternoons, and evenings. Our flexible scheduling options allow you to prioritize your passion for hip-hop without compromising your commitments.

Interactive Workshops

Beyond regular classes, we offer exciting hip-hop dance workshops that delve deeper into specific styles, techniques, and choreography. These workshops provide an opportunity to intensify your learning and gain insights from seasoned professionals.

Community and Collaboration

Join a community of like-minded dancers who share your love for hip-hop. Participate in collaborative projects, jam sessions, and performance opportunities that foster camaraderie and growth.
Hip-Hop Dancing in the Present!
In today's mores, Hip Hop dance has become the norm and can be heard ubiquitously from the outskirts to the urban ghetto. Emphasizing on groove, strength and precision the dance has waving like the electric wave to waggle the body.
Hip-hop dancing in the present is a thriving and influential dance genre that has transcended its origins to become a global cultural phenomenon. It continues to shape the dance landscape, influence popular culture, and provide a platform for self-expression, creativity, and social commentary.
View more about Hip-Hop at Dance And Dance Studio! Chennai
For more queries call us 9840311014 or contact us Click here
To know more details about class timings Click Here