BACHATA DANCE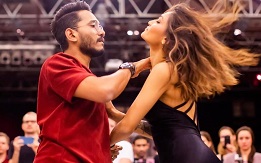 The Bachata Dance is of Dominican Republican heritage, and danced widely around the world. Latin dances have transformed the world with its charisma and charm. It has charged the world with its beats and counts, it looks so beautiful that everyone watching it wants to "get on their feet and start dancing".
Latin dances are the products of innovation; it's an experiment and creation of something called dance. The Bachata is an innovative Latin dance which focuses on the hip and foot movements according to the beat and rhythm of the music. To do the Bachata one has to have their soul in the dance as it is danced whole heartedly.

Fees For Bachata Dance Class
1500 Per Month (3 Days Per Week)
Bachata Benefits: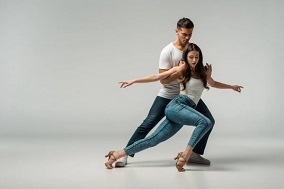 When you learn the Bachata, you learn the culture behind the music and the people who made it beautiful with their soul and hearts.

>> Social

- Meet new people who love to dance as much as you and interact with others who have the same interests.

>> Health

- When you do an exercise it is beneficial to your body, by dancing your body allows you to start slowly and also use your entire body to do more of a workout.

>> Confidence

- This brought about when learning a new skill and that gives you great pride and joy. You will have more confidence in everything you do, by boosting the same while dancing.

>> New Skill

-when you are learning to dance you are not keeping your body but also your brain active as well. The bachata gives you a great workout for your mind and body.
View more about Bachata at Dance And Dance Studio in Chennai!
For more queries email us at danceanddancestudio@gmail.com or call us 9840311014 or contact us Click here
To know more details about class timings Click Here