BACHATA DANCE
"Bachata:Embrace the Rhythm, Dance with Heart!"
Fees For Bachata Dance Class
Wednesdays and Fridays - 8 to 9 Pm


Per head 150 per class ( 1 hour ) 8 hours - 1000
Enroll Now: calling us at 9840311014 or Email danceanddancestudio@gmail.com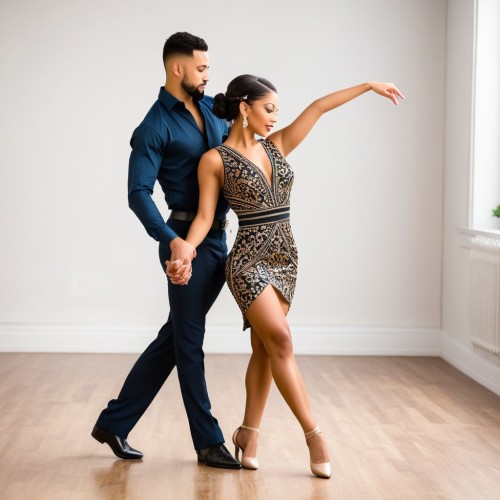 What is Bachata?
Bachata Dance is of Dominican Republican heritage, and danced widely around the world. Latin dances have transformed the world with its charisma and charm. It has charged the world with its beats and counts, it looks so beautiful that everyone watching it wants to "get on their feet and start dancing".
Latin dances are the products of innovation; it's an experiment and creation of something called dance. The Bachata is an innovative Latin dance which focuses on the hip and foot movements according to the beat and rhythm of the music. To do the Bachata one has to have their soul in the dance as it is danced whole heartedly.Bachata dance is a celebration of connection, emotion, and cultural heritage. Its ability to convey deep feelings through movement has made it a beloved and enchanting dance form enjoyed by people of all ages and backgrounds worldwide.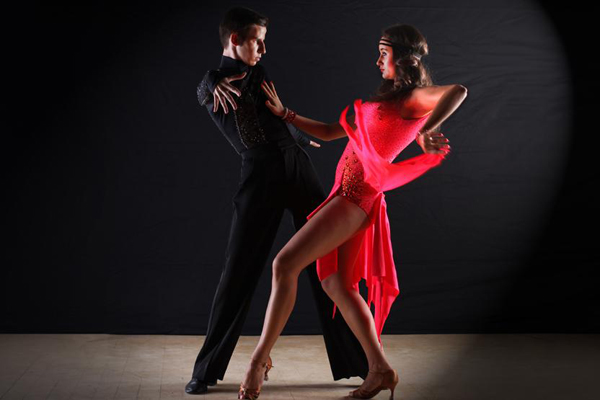 Bachata dance offers a range of physical, emotional, and social benefits that contribute to overall well-being and enjoyment.

Physical Fitness

Bachata involves rhythmic movements, footwork, and body isolations that provide a low-impact cardiovascular workout. Regular dancing can help improve stamina, flexibility, and coordination.

Muscle Engagement

The hip sways, body rolls, and footwork in Bachata engage various muscle groups, particularly those in the hips, core, legs, and back. This can lead to increased muscle tone and strength.

Social Interaction

Bachata is often danced in pairs or groups, promoting social interaction and the formation of new friendships. Social dancing builds communication skills and fosters a sense of community.

Cultural Appreciation

Engaging with Bachata allows individuals to connect with the cultural heritage of the Dominican Republic and appreciate the rich history and traditions behind the dance.

Whether dancing for fun, fitness, self-expression, or social interaction, Bachata offers a holistic experience that nurtures physical health, emotional well-being, and a deeper connection to music and movement.
Unlock the Sensual World of Bachata Dance Classes at Chennai Dance and Dance Academy!
Welcome to a world where rhythm meets passion, and every step tells a story. Chennai Dance and Dance Academy invites you to dive into the realm of Bachata dance, a mesmerizing dance form that awakens emotions and fosters connections. Our academy is your gateway to mastering the art of Bachata in the heart of Chennai.
Dive into the Essence of Bachata
At Chennai Dance and Dance Academy, Bachata dance is more than just a series of movements; it's an exploration of emotions, connections, and cultural heritage. Our seasoned instructors are dedicated to guiding you through this journey, allowing you to discover the magic within each step.
Variety of Bachata Styles
Our carefully crafted curriculum encompasses various Bachata styles, from the traditional to the modern and sensual. You'll learn the distinct footwork, partner dynamics, and body movements that define each style, enabling you to dance with authenticity and grace.
State-of-the-Art Studio
Immerse yourself in a dance studio designed to elevate your learning experience. Equipped with advanced sound systems and spacious floors, our studio creates the perfect ambiance for your Bachata journey.
Flexible Dance Scheduling
Life is dynamic, and so are our schedules. Choose from our range of class timings, including mornings, afternoons, and evenings, ensuring that you can pursue your passion for Bachata without compromise.
Community Engagement
Join a vibrant community of dancers who share your passion. Our social dance events and nights provide opportunities to showcase your progress, mingle with fellow dancers, and celebrate the joy of Bachata.
Chennai Dance and Dance Academy welcomes you to embark on a journey of rhythm, expression, and connection through Bachata dance. Unleash your inner dancer, immerse yourself in a vibrant community, and let the allure of Bachata transform your dance experience. Secure your spot today, and let the journey begin!
Bachata Dance Workshop- Dance and Dance Company
View more about Bachata at Dance And Dance Studio in Chennai!
For more queries email us at danceanddancestudio@gmail.com or call us 9840311014 or contact us Click here
To know more details about class timings Click Here