FITNESS CLASS in Chennai
Joining a fitness class - hours of fascinating fun
Joining a fitness class is never exhausting as you may think. Providing hours of fascinating fun, you inner motives of being fit will be driven as you see a group of people practicing for the same.
Making this daunting proposition an enjoyable workout, you will be getting healthy and fit day-by-day with our diversified exercise programs.
Performing a wide variety of workouts, all that you need to do is just uncover the best fitness program. If you have considered taking fitness classes at your gym, you perhaps picked up the schedule, only to find a list of unusual and perplexing classes.Focusing on the mind-body experience, fitness experts at Dance and Dance Academy will help you bring out the best that your body is in need of.
Fees For Dance Fitness Class
Per Month - 700 - (Only Weekdays)
Per Month - 700 - (All Weekends)
Monthly - 1000

GET INTO SHAPE- JOIN OUR FITNESS CLASS NOW!
Taking you through a series of exercise stations, we will bring out the you factor which you yourself haven´t seen. Our assortment of exercise options and membership plans make fitness both fun and affordable. Why not join today? Get enrolled our Chennai Dance and Dance Fitness Class today!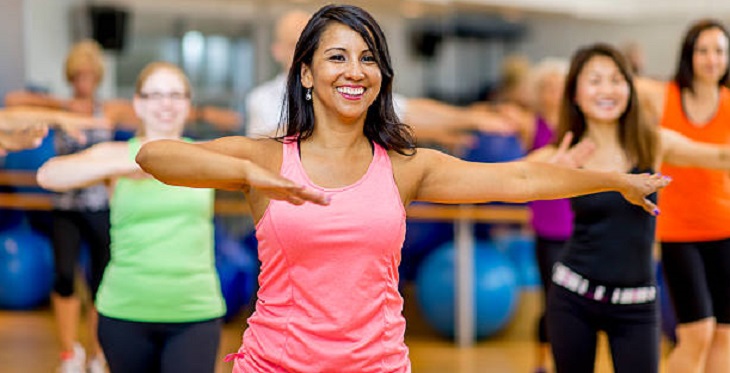 Develop your inner flexibility – join our fitness class in Chennai
NEVER GIVE UP- YOU CAN!!!
Being flexible is a gift and too rigid. However it is impossible to achieve it naturally. Flexibility is often a disregarded and misinterpreted element of a work out and health regimen. It is having the finest range of motion in all the joints of the body.
For certain body conditions, it needs strenuous regular workout to cut out that fat content and to stay flexible. Achieving flexibility in body terms is not an easy deal, but with regular feet and toes ground up together with hamstrings and upper body exercises, flexibility can be achieved.
In certain cases, when you see no change in your body even after following a strict diet together with laborious workouts, it means that your body requires a different pattern of calisthenics which can be achieved only through joining a professional fitness class program.
NOTE – it takes at least 4 weeks for you to notice a difference in your body, 8 weeks for your friends to make out and 12 weeks for the rest of the world.. Fortitude is what all it needs – NEVER GIVE UP!!!
Our Chennai Dance Studio offers a fitness program that takes you through a fun dynamic training that focuses on strength, flexibility and cardiovascular fitness suitable for all fitness levels.
Benefits of fitness class programs:
Inspite of following a controlled and regular diet along with exercise, if you still experience no weight loss then all you need is fitness class training.
Fitness Program in Chennai
Intended to use the same hefty muscle group to the beat for a set amount of time, joining fitness classes will help you reap the following benefits.
>>Helps cope up your stress level
>>Weight management or weight loss
>>Reduces the hazard of developing hypertension and stroke
>>Decreasing the bad cholesterol level, you will have High Density Lipoprotein i.e. good cholesterol
>>Reduces the risk of developing cancer which includes breast, colon and prostate cancer.
>>Increasing the amount of oxygen, regular workouts condition your heart and lungs while helping your heart use oxygen more efficiently.
Being part of a fitness class is a good motivator. Dance and Dance Studio in Chennai offers a wide range of fitness programs to keep you going..