Upcoming Classes
"Dance into the Future: Discover Your Groove!"
Are you ready to step into a world of rhythm ? Our upcoming dance classes are designed to take you on an exciting journey through the art of dance. Let's dance into the future, discovering your individual and collective grooves, creating memories that will last a lifetime. Come, join us, and let the music guide your feet! Book your slot by calling us at 9840311014 or Email danceanddancestudio@gmail.com Fees start as low as 200 Rupees per day Classes.
Mastering Bachata Ladies Styling: Elevate Your Dance Presence
DRILL: Combinations using Basics with Musicality
Bachata Basics
In place basics
Side basics
Front and Back basics
left turn
Right turn
Box basics
Front crossover basic
Back crossover basic
DRILL: Combinations with Body Movement and Isolation/Waves/Rolls and Turns
Postural Correction
How to stand with heels, body alignments and body posture
Arm line, movements etc.
How to hold poses
Movement Techniques
Body isolations
Body Waves
Hips isolation/rolls
Types of Body rolls
Basic Turns
Learn to spot while turning
Balancing techniques
Simple turn combinations
DRILL: Combination with Arms Styling and Footwork
Arms
Arm movements
Arm Styling with turns
Arm Styling with body isolation/waves/hips movements
Arm Styling combinations
Footwork
Footwork combination
with turns
Adding body movements with footwork
Arm Styling with footwork combinations
Dance festival

Workshops are conducted on Salsa, Bachata, Tango, Swing, Jive, Bollywood, Tamil freestyle and more. Call us quickly limited slots available.
Bollywood Dance Classes
Time:
Monday and Wednesdays - 7 to 8 PM
Price:
Per head 200 per class ( 1 hour ) 8 hours - 1500
Salsa dance classes for Beginners
Time:
Tuesdays and Thursdays -8 to 9 PM
Price:
Per head 150 per class ( 1 hour ) 8 hours - 1000
Salsa dance classes for Intermediate Dancers
Time:
Monday and Sundays - Monday 8 to 9.15 , Sunday - 5 - 6.30 PM
Price:
Per head 150 per class ( 1 hour ) 8 hours - 1000
Bachata Beginner classes
Time:
Wednesdays and Fridays - 8 to 9 Pm
Price:
Per head 150 per class ( 1 hour ) 8 hours - 1000
Garba and Dandiya Dance Workshop
Time:
Friday- 6 to 8 Pm and Sunday 2 to 5 Pm .
Price:
Zumba Fitness Dance classes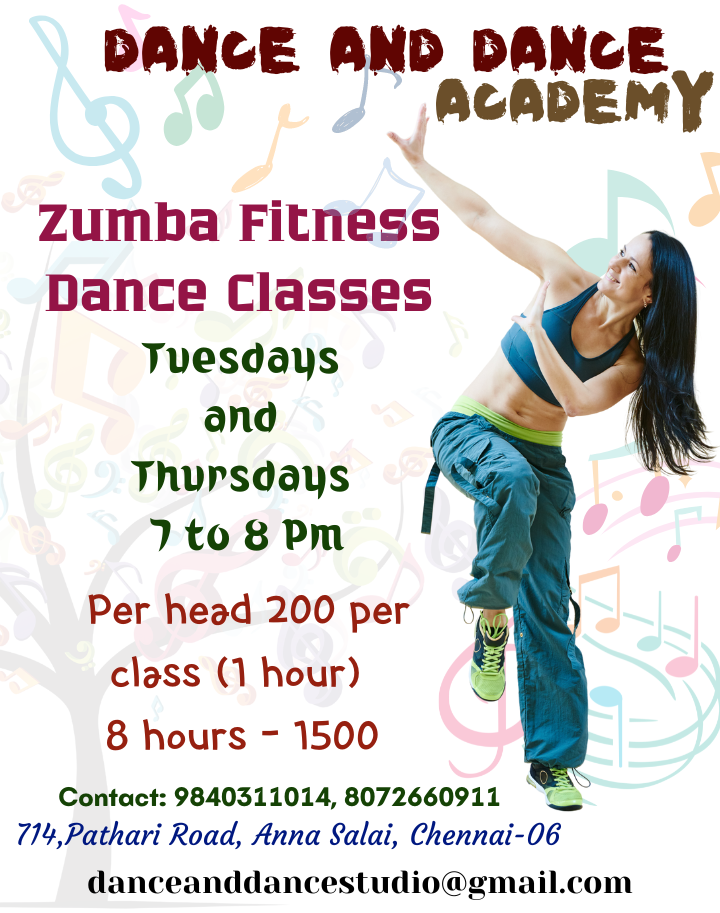 Time:
Tuesdays and Thursdays - 7 to 8 Pm
Price:
Per head 150 per class ( 1 hour ) 8 hours - 1000
Want to dance? Join us today
Join us today at DanceAndDance Academy and discover the joy of dancing! Whether you're a beginner or experienced dancer, our expert instructors are here to guide you every step of the way. Learn various dance styles, improve your coordination, and boost your confidence on the dance floor. Don't miss out on this opportunity to enhance your dancing skills. Come and dance with us!. We teach many different types of dances including, bollywood, zumba, salsa, bachata, garba, dandiya, freestyle, swing, hiphop etc.So, put on your dancing shoes and let yourself be moved by the rhythm!
Discover the Wellbeing Advantages of Regular Dance Classes
Dance sessions offer aerobic exercise that improves heart health and circulation. Dancing burns calories, aiding in weight management or weight loss. Strength and Flexibility:Join our dance classes to refine your coordination, balance, and motor skills.
Dance and dance academy ? Best ever way to learn dancing easily!
Professional Instruction:Our Dance academie have experienced and skilled instructors who are trained to teach various dance styles. They can break down complex movements into manageable steps, making it easier for beginners to learn and progress.
Specialized Classes:Our Dance academies offer classes tailored to different skill levels and age groups. Whether you're a complete beginner or an experienced dancer looking to refine your skills, there's a class suited to your needs.
Enroll in our regular dance classes today and unlock these incredible advantages! calling us at 9840311014 or Email danceanddancestudio@gmail.com